Five Easy Steps Seminar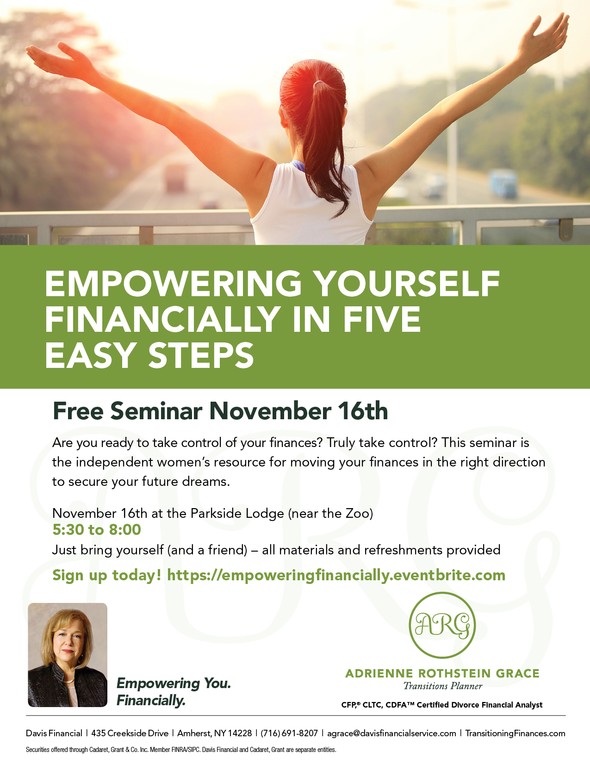 NEW YORK STATE COUNCIL ON DIVORCE MEDIATION - UPSTATE MINI-CONFERENCE
This weekend featured a Mini-Conference for the NYS Council on Divorce Mediation (NYSCDM) for the Upstate area. A wide variety of topics was presented, including "The Gray Divorce" (Parts 1 & 2) by Adrienne Rothstein Grace, CFP®, CLTC, CDFA™, Certified Divorce Financial Analyst™, who also Co-Chairs the Event.
NYSCDM is a non-profit organization dedicated to promoting the highest professional standards of divorce mediation. The Mini-Conference was held from September 18 – September 19 at Byblos on Grand Island. It provided a forum for Speakers to share timely & pertinent information to their members.
Adrienne Rothstein Grace brings 30 years of financial advisory experience to clients in transition. Whether that transition is in marital status, household partners, job change or elder year planning, Adrienne's focus is to help clients navigate their transition eliminating financial pitfalls. A member of the New York State Council on Divorce Mediation, she works with attorneys, mediators and in collaborative divorce, as a financial neutral or an advocate for one of the parties. Adrienne is the President of the WNY Collaborative Law Professionals, and is on the Board of the WNY Council of Girl Scouts.  She is the Secretary of the Executive Board of Directors of Jewish Family Service, who recently honored her as a Woman of Distinction. She works with Davis Financial Services in Amherst, NY. 
Adrienne is the author of a new book, How to Avoid Becoming a Financial Victim of Your Divorce, to be published in November, 2015. Look for her at upcoming free seminars  guiding women to financial empowerment.
INAUGURAL LEADERSHIP ACADEMY CLASS GRADUATES
Adrienne Rothstein Grace, CFP®, CLTC, CDFA™ has graduated from the Inaugural Leadership Academy Class by IACP (International Academy of Collaborative Professionals).
The purpose of the IACP Leadership Academy is to develop the leadership skills of participants in order to assist them in making the most effective contributions to the growth and development of the Collaborative movement, both locally and internationally. IACP's goals are to nurture effective leadership which will support thriving Practice Groups to build relationships among leaders within the Collaborative community, and to ensure the enduring vitality of the Collaborative movement.
Considered a better way to resolve conflict, the collaborative process is gaining in popularity among those who wish to have more control in shaping the outcome of their conflict resolution. Collaboration involves a more respectful, non-destructive manner, without traditional courtroom litigation.
The Leadership Academy was a year-long program that included three study retreats as well as a collection of phone bridges and webcast seminars. Lead instructors, Nancy Cameron, Q.C., LLB and Anne Lucas, MA, LMHC were joined by a variety of experts leading subject-specific webcasts and teleconferences throughout the year.
INVESTMENT 101 – FILL YOUR OWN PURSE PARTY!
WHEN: November 6, 2014 at 5:30 p.m. – 7:00 p.m.
WHERE: 438 Main Street (The Main Court Building), 12th Floor, Buffalo, NY 14202

WHAT: Amy Jo Lauber, CFP with Lauber Financial Planning and Adrienne Rothstein Grace, CFP, CLTC, CDFA with Davis Financial will be educating and empowering us about our money, savings, financial futures, and the options we have.
This presentation is geared to beginners.

This event is FREE to WLWNY members. If you are not a member, come on over on the 6th, sign up for a yearlong membership (through 2015) and join us! Membership cost is $35.00.

We will have light snacks and wine. Please RSVP on Facebook or by email at: wlowny@gmail.com if you plan on joining us so we can be sure to have enough refreshments for all.

We look forward to learning with you in a comfortable and casual environment!
 
First Valentine's Day, then Divorce
BUFFALO, NY Feb 18, 2013 - Valentine's Day may be for lovers, but the day after is all about divorce. "Valentine's Day is full of expectations - and when those expectations are not met on what is supposed to be the most romantic and loving day of the year, divorce quickly comes to mind," says Adrienne Rothstein Grace, a Certified Divorce Financial Analyst (CDFA) based in Buffalo, NY. "There is definitely an increase in phone calls on February 15 from clients seeking advice and information about the next steps to resolving their marital strife."
Most people contemplate divorce for six months to a year before taking any action, and February 15 seems to be a trigger for many unhappy couples. They limped through the holiday season - especially if they have kids - but one more Valentine's Day in a miserable marriage is the final straw.
Michelle Smith, a CDFA professional based in New York, NY, also experiences holiday-related spikes in business - but hers are immediately after New Year's and right before the summer holidays. Regardless of when someone decides to end their marriage, Smith advises them not to try to go through the process without a CDFA to protect their financial interests. "You go to a divorce lawyer for legal advice and strategy; the CDFA professional is the financial zoom lens for that strategy," she says. "The CDFA obtains and analyzes the numbers, and quantifies the client's goals. With the numbers and the client's goals, the lawyer's job is to package that with legal strategy and case law for the best outcome. The critical component of that is the CDFA to analyze and strategize with the numbers. It is a trio: the client's goals; the numbers; and the legal strategy. It has to work as a package - and that package doesn't work without a CDFA."
Working with clients and their lawyers, a Certified Divorce Financial Analyst forecasts both the short and long-term effects of the proposed settlement, letting the client and lawyer know what the financial future will look like if the client accepts "Settlement A" or "Settlement B".  CDFA professionals also give lawyers the tools they need to help prove their cases.
Founded in 1993, IDFA is celebrating its 20th anniversary this year. The designation and this niche industry are expanding rapidly as the more than two-million people who will divorce this year in the US and Canada search for alternative divorce processes - from collaborative divorce to mediation - rather than litigating their case using lawyers as their only line of defense.
CDFA professionals are found throughout the US and Canada, from Los Angeles to New York to Toronto. IDFA is the premier national organization dedicated to the certification, education, and promotion of the use of financial professionals in the divorce arena. For more information, visit www.InstituteDFA.com.
Meeting the unique needs of Gay, Lesbian, Bisexual, Transgender and Transsexual Clients in the Collaborative Process
On  January 11, 2013, Adrienne Rothstein Grace, CFP, CLTC, CDFA (Certified Divorce Financial Analyst) and Vice President of the Collaborative Law Professionals of WNY, Ltd, attended a seminar in Rochester, NY, addressing the concerns of LGBT clients who may be contemplating marriage, separation or divorce.
Same-sex couples were granted the right to marry in New York in June, 2011.  Given the lack of recognition of marriages on the Federal level, due to the Defense of Marriage Act (DOMA), unique challenges face clients and collaborative practitioners when assisting LGBT clients in negotiating pre- or post-nuptual agreements, parenting agreements and separation/divorce agreements.  The lack of legal protection for both parents in many situations poses challenges best met by a team approach; the tax and financial aspects are complex and require the assistance of financial and tax specialists, like a Certified Divorce Financial Analyst.
The seminar was presented by Mariette Geldenhuys, who has practiced law in Ithaca, NY for 24 years, specializing in family and matrimonial law, LGBT family law, estate planning and adoption.  She focusses on collaborative law and mediation, to help clients resolve issues in a respectful, client-centered way and without litigation, resulting in a private, out-of-court settlement.
An experienced financial professional, Adrienne specializes in helping couples and individuals going through divorce avoid the common financial pitfalls of divorce, and working with family law attorneys, mediators and in the collaborative divorce process. She also works closely with individuals who have lost a spouse through death, divorce or disability, to help take the stress out of financial and wealth management and to help them rebuild. Adrienne works with Massachustts Mutual Life Insurance Company (MassMutual)/Buffalo, in Amherst, NY.
Securities offered through Cadaret, Grant & Co. Inc. Member FINRA/SIPC. Davis Financial and Cadaret, Grant are separate entities. (716) 691-8207.