Instruction
About the Book
Going from We to Me
A Financial Guide to Divorce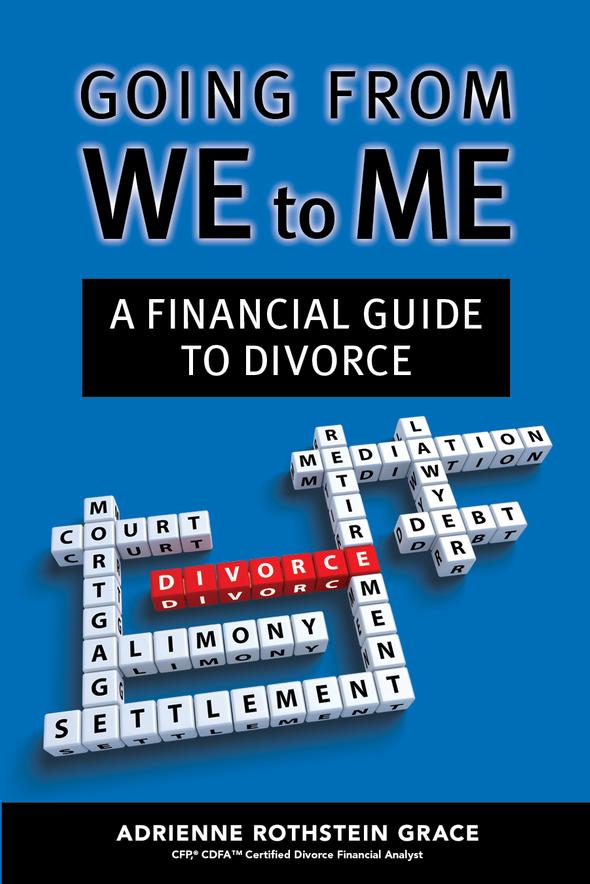 Empower yourself financially with the practical steps, insights and valuable information directly from Adrienne Grace - a Certified Divorce Financial Analyst.
Marriage is about love; divorce is about money. When divorce is on your doorstep, you need to protect your financial future. This book gives you the guidance you need to take charge of your finances both through your divorce and after so you can achieve the best divorce settlement possible for you and your children.
Second Saturday
Going from We to Me
Smart Talk about Separation and Divorce
Divorce is one of the most challenging decisions you will ever make, but you don't have to do it alone.
Going from We to Me was designed to help as you contemplate taking this step, no matter where you are in the process. In a comfortable setting, you will get unbiased information to help you understand all of your options, deal with your emotions, and move forward with your life.
We believe that separation or divorce is difficult enough, so we've created this once-a-month discussion group to help make getting the critical information you need a bit easier to get.
Going from We to Me offers information about the legal, financial, family and emotional issues of divorce in a logical, yet compassionate way.
Our goal is to help women move confidently toward their future.
Take the First Step to Empowerment and Join us for Going from We to Me 
Learn your options while enjoying some wine and cheese
  Cost: Free to attend
  Where: 1404 Sweet Home Road, Suite 9
  Amherst, NY 14228
  When: Every Second Tuesday evening at 7:00
  Registration:  email adrienne@adriennegrace.com 
Schedule
  Discussion Leaders:
Family and Emotional Issues Presented by Wendy Pegan, MsEd, LMHC, NCC, CCMHC,
Can my marriage be saved?

What does the process of couples therapy look like?

Coping skills for the emotions of the divorce process

Traps to avoid with your children as you navigate the divorce process
Financial Issues Presented by Adrienne Rothstein Grace CFP®, CDFA™ Certified Divorce Financial Analyst
Strengthening your financial partnership

Preparing for divorce

Dividing property

Tax consequences of divorce
Legal Issues Presented by Paul Pearson, Esq. Family Law Mediator
The divorce process and legal fees

Protecting yourself legally and financially

Child custody, Child support and Spousal support

Avoiding court through mediation
Frequently Asked Questions
I'm not sure I want to end my marriage – will this still be useful to me?
Yes, the family and financial matters are helpful to any woman.
Will I have to tell my story to a room full of strangers?
No, we will not put anyone on the spot. 
Can I still come if I don't register?
Yes. Registration is encouraged to anticipate the number of people attending, but it is not mandatory.
 
Securities offered through Cadaret, Grant & Co. Inc. Member FINRA/SIPC. Davis Financial and Cadaret, Grant are separate entities.
Follow Us
Follow me on Facebook, Twitter and LinkedIn
Read my Blog for helpful advice on divorce matters
Watch my Video to learn more
Check the background of this firm on FINRA's BrokerCheck