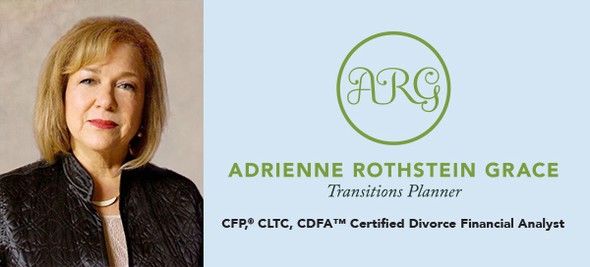 It's about Knowing What to do Next
There is much uncertainty about rebuilding after the unexpected has happened. There are three key questions to be considered:
Is there anyone at all on whom you are at least partly financially dependent?

What would happen if that person was no longer able to deliver their end?

Are you prepared?
Well, contrary to popular belief, sometimes, life does give you a "do-over." But the key to a "do-over," is to do it over the right way. No matter what your lifestage, there are simple steps you need to follow to plan your financial future.
Mission
Adrienne and her team are committed to maintaining the highest standards of integrity and professionalism in our relationship with you, our client. We endeavor to know and understand your financial situation and provide you with the highest quality information, services, and products to help you reach your goals.
Follow Us
Follow me on Facebook, Twitter and LinkedIn
Read my Blog for helpful advice on divorce matters
Watch my Video to learn more
Check the background of this firm on FINRA's BrokerCheck.
Interviews
Listen to Adrienne Grace on Impact Makers Radio with Stewart Andrew Alexander